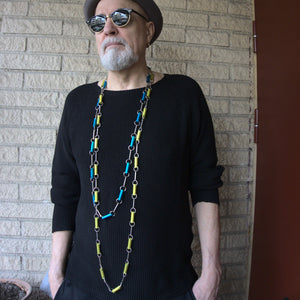 Lamia Saab Design
Retro Metallic-Blue necklace
Sale price Price $1,070.00 Regular price
Tax included.
Shipping
calculated at checkout.
Retro long necklace. Unisex.
Metallic blue colored and anodized aluminum with sterling silver rings and rods. 
It's big and bulky yet light and easy to wear.
You can wear it long or as 2 or 3 strands, for  a shorter look. Why not mix and match colors?
114cm long.
Please note that the color can differ a bit from the pictures online.