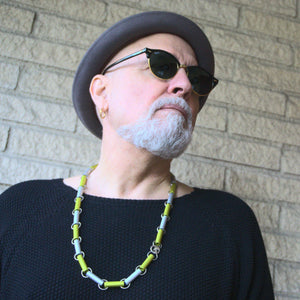 Lamia Saab Design
Retro Lime & Light-Grey Necklace
Sale price Price $498.00 Regular price
Tax included.
Shipping
calculated at checkout.
Retro necklace. Lime and light-grey anodised aluminum and sterling silver rings and clasp.

Unisex
Length: 75,5 cm 
It's big, it's bulky but it is so light to wear! And it works perfectly as an alternative to a pearl necklace! Simple and elegant, and you can mix and match it with other necklaces for a bolder look.
It comes with a loose Logo clasp that you can hook anywhere on two rings of your choice for different looks. Your choice of a regular necklace or a bolo-tie look...
Please note that the color might differ a bit from the pictures online.