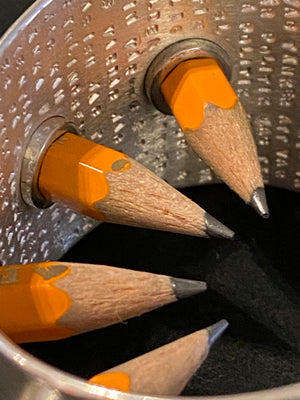 Lamia Saab Design
From the Sköna Juveler exhibition at the Sven-Harry Art Museum Cuff / Bracelet. For the price, click on the picture & find it under the description
Sale price Price $0.00 Regular price
Tax included.
Shipping
calculated at checkout.
Please OBSERVE this cuff is an Exhibition piece and
NOT MADE TO BE USED
I took part in the Sköna Juveler utställning or Beautiful Jewels exhibition at the Sven-Harry Art Museum and showed these three pieces. A choker, a 3-finger ring and this bracelet or cuff.
The theme was Freedom and this was my comment to those who want to take away our Freedom of Speech. 
Here is the cuff. Made in sterling silver with a poem written / stamped on the inside, 4 pencils, a moonstone and 3 different color tourmaline cabochons. 
The pencils gave way to my Words collection. 
The cuff/ bracelet is for sale and costs 62 000 SEK